Jump to Winery List
New Norcia Wine District
New Norcia Wine District is based on the township of New Norcia which is located a scenic and leisurely two hour drive northeast from Perth. It is a small piece of Spain located in the Australian bush. Everyone, regardless of their beliefs, finds themselves moved by the sincerity and peacefulness of this tranquil community. The Benedictine monastery is situated on the site of the original mission buildings built in 1847 at tbe same site in the township of New Norcia. The monastery is still home to a group monks who still live a simple life of prayer in the community and work within the monastery, including their winery.

The New Norcia Wine Region includes one district: New Norcia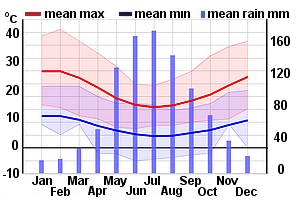 Winery Tour Map
Wineries
Benedictine Abbey, WA Benedictine Community of New Norcia, WA 6509
Nick Humphrey, a Perth optometrist, has operated Bindoon Estate for 15 years and over the last few years has sold a steadily-increasingly percentage of his annual production to New Norcia. Not that the monks are drinking more - they drink in moderation as Holy Father Benedict urged - but there is an increasing tourist trade at the New Norcia Hotel. The idea of re-introducing the Benedictine Abbey ...
New Norcia Museum, WA The New Norcia Museum and Art Gallery, Manager: Jenny Waddell, Benedictine Abbey
After an absence of nearly 25 years New Norcia has again become involved in the production of wine. On a beautiful day in May, the merry month, the monks of New Norcia celebrated the launch of Benedictine Abbey Shiraz 1998 and Benedictine Abbey Chenin. Both the Benedictine Abbey Shiraz and Benedictine Abbey Chenin are made from grapes grown at Nick`s Bindoon Estate located some 50 kilometres south...