Jump to Winery List
Gingin Wine District
The Gingin Wine District, in the Swan District Region, includes vineyards and wineries in the vicinity of Gingin and along the Mooliabeenee Road to Bindoon - about 50 km North of Perth. The district includes the townships of Gingin, Mooliabeenee, Bindoon, Muchea, Chittering. Gingin is an agricultural service town and tourist centre north of Perth along the Brand Highway. The area has well developed agriculture based on it mild climate and ready availability of various water sources. The major rural industries are beef cattle, vineyards, cereal crops, olives and oranges. Gingin is home to the famous Southern Cross Cosmos Centre, which houses Australia's biggest public Observatory. The Gingin Observatory runs educations session in conjunction with the Gravity Discovery Centre and provides students and the general public with a chance to observe the sun and see the stars during the evening sessions. The town of Gingin is also host to the annual British car rally, which is held on the third Sunday of May.

The Swan District Wine Region includes five districts : Sunset Coast ; Gingin ; Muchea ; Bassendean ; Inner Perth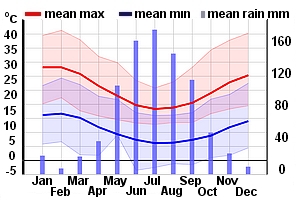 Winery Tour Map
Wineries
Jylland Vineyard, WA 77 Ashby Road, Gingin, WA 6503
Jylland Vineyard is located in the Lennard Brook district of the Shire of Gingin, Western Australia, the vineyard is on the south western slope of Moorgup Hill, on the edge of the Darling Scarp, about 80km north of Perth. Our official Geographic Indicators (GI) district is SWAN Travel time from Perth, 1 hour (approx, subject to traffic) From the north end of the Freeway, 40 minutes (approx) - via ...
Moondah Brook, WA Mooliabeenee Road, Gingin, WA 6503
The original Moondah Brook Estate was established in 1968, a 92-hectare property located at Gingin, north of Perth. The vineyard was established because of its unique climate. Sea breezes in the afternoon and gully winds of an evening assist with the reduction in temperatures at ripening time, allowing the wines to display great varietal character. Today, Moondah Brook is a range of varietal wines...
Riseborough Estate, WA Lot 21 Petersen Rise, Gingin, WA 6503
Finishing with a taste of some of the very best of our extensive range of sparkling, white, red and fortified wines, including a tasting of the 4 generation Stari which dates back to 1933. Which is definitely worth a taste!