Jump to Winery List
Kingscote District - Flinders Island Region
The Kingscote District on Kangaroo Island Wine Region includes the vineyards and wineries on Kangaroo Island, located off the coast of South Australia. Kangaroo Island is one South Australia's latest wine region with more than 35 growers and more than 200 hectares of vineyards planted. You can visit many of the wineries and taste the more than 24 distinctive labels, many of which are exported overseas to Europe, United Kingdom, United States of America. You can also buy the distinctive Kangaroo Island wines at many wine outlets on mainland Australia and online. Kangaroo Island wines are renowned for their intense varietal fruit flavours and strong colours. A cool climate ensures a slow and long ripening of the grapes, which maximizes the flavour and complexity of grapes. You can taste the wines at one of the many cellar doors on the island and at many of the island restaurants that serve local wines. The first plantings were at the Florance Vineyard at Cygnet River in the 1980s. There is growing interest in wine and the region now has more than 24 winegrowers. The most common varieties are Cabernet Sauvignon, followed by Shiraz, Merlot, Chardonnay and Riesling. Some of the best known labels are: Bay of Shoals, Nepean Ridge, Dudley Partners, Williams, Cape D'Estaing, Nepean Ridge and KI Trading Company. The major cellar outlet is Sunset Wines which showcases a variety of wines and some of the other fresh food produce. As expected, the climate is dominated by the Bass Strait waters. The average summer temperature is about 25 degrees C (77 degrees F), significantly cooler than that of Adelaide. Winter temperatures are also several degrees warmer. Overall, there is a temperate climate; with extremes flattened out, and a particularly even accumulation of heat. Relatively mild conditions are experienced during both winter and summer, typical of the moderating effects of island climates.

The Kangaroo Island Wine Region includes one district : Kingscote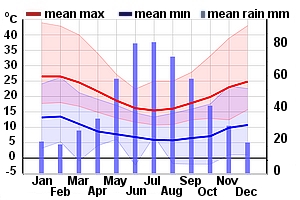 Winery Tour Map
Wineries
Bay of Shoals Wines, SA Cordes Rd, Kingscote, Kangaroo Island SA 5223
John Willoughby`s vineyard overlooks the Bay of Shoals, which is the northern boundary of Kingscote, and the island`s main town. Planting of the vineyard began in 1994, and has now reached seven hectares of Riesling, Chardonnay, Sauvignon blanc, Cabernet Sauvignon and Shiraz, with a further three hectares to be planted in 2002. In addition 460 olive trees will be planted to produce table olives fo...
Cape d`Estaing, SA North Coast Rd, Wisange, Kangaroo Island SA 5222
In 1993, four couples purchased a 200-hectare farm with the aim of establishing a vineyard capable of producing high quality grapes. Each person brings skills and ideas to the partnership, and participates in some way in the day-to-day running of the business (which now extends to wine production). Two couples reside on Kangaroo Island. The owners are: Graham and Jude Allison, Alan and Ann Byers, ...
Chain of Ponds, SA Florance Vineyard, Gum Creek Rd near, Kingscote SA 5223
In1990, Armando was one of the pioneers in making the first successful commercial wines on Kangaroo Island under the name of Kangaroo Island Trading Company. Following on from this success, Armando and Dominic combined forces to create their own family brand, resulting in the birth of Dominic Versace Wines, on the Adelaide Plains in 2000. Kangaroo Island Trading Company is now owned by Chain of Po...
Dudley Wines, SA Thomas Willson Street, Penneshaw, Kangaroo Island SA 5222
Visit the cellar door of the island`s first and largest winery. Relax on the balcony with a glass of wine, a bucket of king prawns or an antipasto platter and enjoy outstanding sea views overlooking the pages islands and the Fleurieu Peninsula. Cape Willoughby, the eastern point of the Island, is a spectacular vantage point over backstairs passage, the Pages and to the mainland. Dudley Wines cella...
False Cape Wines, SA 1054 Willson River Rd, Dudley East SA 5222
Named after a nearby coastal landmark, False Cape vineyard on Kangaroo Island was established in 1999 together with our winemaking family, the Folletts of Lake Breeze Wines in Langhorne Creek. Located on the banks of the Willson River on the Dudley Peninsula between Penneshaw and Cape Willoughby, it's location was selected for it's ideal soil conditions. Boasting a north facing slope containing Terra Rosa soils over limestone and the Willson River flat with fertile dark alluvial soils making it the ideal conditions for growing quality fruit. Today our vineyard covers over 60 acres making us the largest vineyard on Kangaroo Island. We take pride in looking after our natural surroundings and as a result, grow our vineyard as naturally and organically as possible ensuring a sustainable vineyard. Our range of wines includes the Kangaroo Island Wine of the Year, Captain Cabernet Sauvignon and Kangaroo Island White Wine of the Year, The Chardonnay.
Islander Estate Wines, SA Bark Hut Rd, Parndana, Kangaroo Island SA 5220
Jacques was looking for a large property offering a combination of agricultural and vineyard potential.The property had to be on north-facing slopes with heritage vegetation. A 300-hectare property located near Parndana in Kangaroo Island`s heartland came up for sale and with the help of the Paxton team an 11-hectare vineyard was planted in the year 2000 with varieties Jacques had enjoyed working ...
Kangaroo Island Spirits, SA 856 Playford Highway, Cygnet River, Kangaroo Island, South Australia,
The KIS story began in 2002, when Jon and Sarah Lark married and set out to establish Australia's first dedicated gin distillery, where they wanted to do things properly, the traditional way. Early on, Jon and Sarah visited Sipsmith in Hammersmith, London. There in the suburbs they saw that Sipsmith had started making a premium gin in a small shed, using a small still. This gave the Larks the confidence to continue the KIS distilling journey with an even smaller still than they were already using in their own shed on KI. They knew they were on the right track. One of the appealing things about gin is the use of botanicals - there is a lot you can do with them in the gin making process. Jon and Sarah believe that gin should still be predominantly juniper flavoured - it's a choice (some of the new ones aren't). But from there on, there's a lot of flexibility and you can almost do or add anything you like. And this is where Jon and Sarah have worked their magic to produce the exquisite uniqueness of KIS gins, which underpins Kangaroo Island Spirits' core values and product personality.
Kangaroo Island Wineries, SA 76 Dauncey St, Kingscote SA 5223
Kangaroo Island is a relativly new wine region with more than 200 hectares under vines. Kangaroo Island wines are known for their strong varietal fruit flavours and intense colours. A temperate climate ensures a long, slow ripening of the grapes. Sample the wines at one of the Island's Cellar Doors or at the Islands Restaurants. Kangaroo Island is only 13km off the South Australian mainland. At 4405km2 the Island is seven times larger than Singapore. kangaroo Island is recognised for its native forests filled with native Australian wildlife. The Island has many beautiful secluded beaches and pristine waters ideal for couples or families.
Rookery Wines, SA PO Box 132, Kingscote, Kangaroo Island SA 5223
Rookery Wines is a boutique family-owned winery on Kangaroo Island. Its clean air, abundant wildlife and native vegetation are just some of the reasons why owners Garry and Gael Lovering say they are lucky to live there - these qualities they share with the rest of the world - through their wine. Our wine is a bottled ambassador for one of the most beautiful, pristine and isolated environments in ...
Snow Dragon Wines, SA 1318 N Coast Rd, Wisanger SA 5223
We're Andrew and Sue Bigwood, and with our 2 sons, Kai and Shalin, and Wine Dog Mukha, we are Snow Dragon Wines. Established in 1994 as Cape d'Estaing, our 10-hectare vineyard is nestled amongst 200 hectares of farmland in the Wisanger Hills, overlooking the iconic Emu Bay. Shiraz and Cabernet vines were struck from quality rootstock to produce grapes of distinction. From these grapes, Cape d'Estaing made small quantities of exceptional wines that were sold almost exclusively to boutique markets in the USA and Eurasia. We are keen to show that primary production of excellent quality can go hand in hand with land restoration and wildlife. Sheep graze the winter weeds in the vineyard, cattle rotate through the paddocks and existing native scrub and creeks are being protected and revitalised by a revegetation program. In time wildlife will replace most of the stock.
Springs Road Wines, SA 761 Playford Hwy, Cygnet River SA 5223
Our Springs Road vineyard was established in 1994 on a small sheep property off Springs Road, Menzies, about 7km west of Kingscote on Kangaroo Island. The vineyards were planted by well -known locals Roger and Kate Williams. Roger owns and runs Roger's Deli in Kingscote and is a past President of the Kangaroo Island Racing Club. I want to say Roger is a colourful racing identity, but of course that means something else entirely. The Springs Road property was originally owned by Kate's father, a strict Christian who didn't approve of alcohol, smoking or betting at the races! The old house (which now stores nets we put on the vines to stop the crows eating the grapes) was built by local Garry Johnson's grandparents. Garry came and help do some trenching for the pathway leading up to cellar door. The vineyard is on a special site in a very special place. It has a unique combination of relatively low rainfall, low soil fertility and a moderate maritime climate which results in low yielding vines producing highly coloured and intensely flavoured wines.
Sunset Winery, SA Hog Bay Road, Penneshaw, Kangaroo Island SA 5222
Sunset Winery is Kangaroo Island`s first purpose built cellar door/ winery. All fruit for the wine is sourced from Kangaroo Island vineyards. It is a boutique winery owned and run by friends and business partners Colin Hopkins and Athalie and David Martin. Construction commenced in September 2002 and completed in April 2003, opening to the public on 16th April 2003. Elevated sea views overlooking ...
Two Wheeler Creek Wines, SA 804 Harriet Road, Kangaroo Island 5223
Two Wheeler Creek Wines,