Jump to Winery List
Angle Vale Wine District
The Angle Vale Wine District includes wineries near Angle Vale, McDonald Park, Elizabeth, Salisbury, Lauriston, Penfield and Virginia in the Adelaide Plains Region, North of Adelaide. Salisbury is a thriving city and community offering a tremendous variety of recreation opportunities including nature reserves, beautiful parks and a number of wetlands that are very popular with visitors. You can also visit the historic seaside town of St Kilda that boasts a popular adventure playground. Visit the Technology Park, which is home to many hi-tech companies that specialise in robotics, computer systems and space technology. Salisbury is located 25 kilometres north of Adelaide. Angle Vale is home to Virgara Wines that have lovely lush green grounds and facilities for picnics and BBQs. They offer a variety of products apart from their wines, including olives and olive oil, almonds and continental taralli biscuits.
The Adelaide Plains Wine Region includes two districts : Angle Vale ; Gawler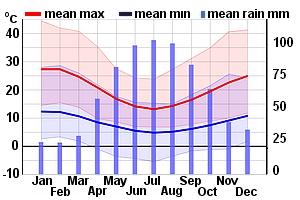 Winery Tour Map
Wineries
Dominic Versace, SA Heaslip Road, MacDonald Park SA 5065
The origins of Dominic Versace wines date back to 1950 when Carmine Versace migrated from Italy to Australia. His wife Teresa, son Dominic, and two daughters Lina and Maria followed. Carmine`s experience and vineyard knowledge ensured his immediate employment at Wynns Wineries in Coonawarra. Over time this tradition and culture was passed onto Dominic Versace and his wife Maria, who then purchased...
Hazyblur Wines, SA Lot 5, Angle Vale Road, Virginia, SA 5120
Robyne and Ross Trimboli hit the jackpot with their 2000 vintage red wines, sourced from various regions in South Australia, including one described by Robert Parker as `Barotta, the most northerly region in South Australia` (it is in fact Baroota, and is not the most northerly) with Parker points ranging between 91 and 95. One of the wines included a Late Harvest Shiraz, tipping the scales at 17 ...
Lights View Wines, SA Old Port Wakefield Rd, Virginia SA 5120
Our wines are produced with a high standard of production by our top class Winemaker, Joanne Irvine. Joanne brings a wealth of knowledge to the team together with Ken Carypidis, Director of Light's View.
Mitolo Wines, SA Cnr John and Angle Vale Rds, Virginia SA 5120
Mitolo Wines is a family owned company which was established in 1999 by Frank and Simone Mitolo. Their vision was to create individual, hand-crafted, premium wines built on passion and uncompromising commitment. This is what defines Mitolo Wines. Frank teamed with Ben Glaetzer to achieve the Mitolo vision in creating the best interpretation of McLaren Vale and Barossa Valley Shiraz using top quali...
Primo Estate, SA Old Port Wakefield Road, Virginia, SA 5120
From our very first vintage in 1979, our aim has been to create and evolve our own styles of wine. We have explored new ideas and been inspired by some very old traditions along the way. The current range of Primo Estate and JOSEPH wines are a result of this vision. The Primo Estate range is focused on one white and one red wine that make a strong impact with their character and individuality. The...
Pure Vision Organic Wines, SA Virginia SA 5120
Organic wine is made from organically farmed grapes grown free of fertilisers, pesticides and synthetic chemicals. Over time, these farming inputs can be detrimental to the soil, planet and the wine drinker. Organic wine is produced without these harmful ingredients that are typically evident in conventional wines as residue. Only small amounts of sulphar is used in the wine making process to prevent spoilage, almost 4 times less than a conventional bottle!
Virgara Wines, SA Lot 11 Heaslip Rd, Angle Vale SA 5117
Based in Angle Vale, Virgara Wines shows us how hard work and family can create a successful business. From Southern Italy to the Adelaide Plains, the Virgara family have always had a strong work ethic. Migrating in 1962, the family of 12 settled at Angle Vale. From there they worked on the land producing potatoes, vegetables and grains. Their passion for wine and the land saw the Virgara family b...