Jump to Winery List
Kangaroo Valley Wine District
The Kangaroo Valley Wine District, in the Region of the same name, is natural depression lying between the Barrengarry and Cambewarra Mountains about 150 km south of Sydney and 30 km west of Nowra. The valley is very scenic with dramatic sandstone cliffs encircling the valley floor through which the Kangaroo River glides, amongst the remnant of temperate rainforest that dot the landscape which features rolling dairy and cattle grazing properties. The delightful town of Kangaroo Valley contains many heritage listed building including charming pub. There are many art and craft shops, cafes and restaurants, all in a very appealing setting that attracts many visitors throughout the year. The rich volcanic soils are ideal for farming and for the several wineries that have been established in the area, and in the adjoining Berry District of the Shoalhaven Coast Wine Region. The beautiful Hampden Bridge, a suspension bridge built of sandstone blocks and steel cables, was built in 1898, and remains a major drawcard for visitors together with the nearby Fitzroy falls. Some of the many local attrctions and activities include: # Canoeing or kayaking through the upper reaches of the Kangaroo River and enjoy a picnic in the clear mountain pools or through the spectacular Shoalhaven Gorge. # Wonderful views from the Cambewarra Mountain lookout. # Wines, fruit, vegetables and other fresh produce from the many boutique farms in the area. # Visiting the neeighbouring Southern Highlands and Shoalhaven Coast Regions.

The Kangaroo Valley Wine Region is home to 1 district: Kangaroo Valley ;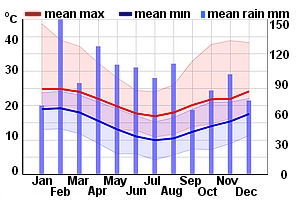 Winery Tour Map
Wineries
Lyrebird Ridge Organic Winery, NSW 330B Bugong Rd, Budgong NSW 2577
Lyrebird Ridge Organic Winery and Retreat is a small organic winery situated on 40 acres of bush land only 20 minutes from Kangaroo Valley, 25 minutes to Berry and 20 minutes from Nowra. The winery has been in operation for 24 years with the first vines going in in 1994. Chambourcin has been our main varietal, due to its resilience to disease, essential when growing using organic practices. Over the years we have had many challenges however we continue to produce a small quantity of red wine and fortified wines for our cellar door and our guests.
Yarrawa Estate, NSW Scotts Road, Kangaroo Valley NSW 2577
Yarrawa Estate Vineyard is nestled between the rugged escarpments of Kangaroo Valley. This vineyard enjoys a temperate climate with rich volcanic and alluvial soils providing an ideal environment for viticulture. At Yarrawa Estate we believe in the personal touch. All of our grapes are picked by hand and transported under optimal conditions to the wine making facility. For many years we have enjoy...