Jump to Winery List
Bathurst Wine District
The Bathurst Wine District is located in the heart of the Central West Wine Region in New South Wales. The central town of Bathurst is situated on the banks of the Macquarie River and is the traditional home of the Wiradjuri people and is well known as Australia`s oldest inland European settlement. Bathurst is a vibrant and exciting country city with very rich and diverse cultural heritage and is well known as a learning centre. Bathurst is well known as a major tourist area based on its diverse rural, manufacturing, agricultural and education industries and has great facilities for lifestyles focused on in art, sport, entertainment and tourism. There is a huge range of attractions and activities, including: # Panning for gold at Sofala in the Turon River # Enjoying the Lloyd Rees collection at famous Regional Art Gallery # The Bathurst 1000 Super Touring Car Race held in October, The Bathurst International Motor Festival, held at Easter and the bikes, cars and racetrack simulator at the National Motor Racing Museum at Mount Panorama. # Take a tour of the magnificent Abercrombie Caves, and the Arch Cave. See the complete Tyrannosaurus rex skeleton at the wonderful Australian Fossil and Mineral Museum. # The Food and Wine Festival held in March.

The Central West NSW Region Central West Region is home to over 30 vineyards in seven districts: Forbes, Canowindra and Parkes ; Dubbo ; Bathurst ; Gilgandra; Coonabarabran ; Warren ; Dunedoo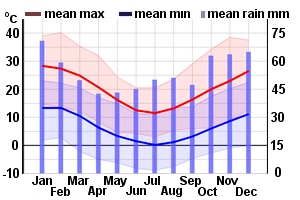 Winery Tour Map
Wineries
Hamlat Vineyard, NSW 56 Clairvaux Lane, Kelso NSW 2795
Hamlat Vineyard features cool climate grapes were grown at 740 metres above sea level 15kms east of the city of Bathurst NSW. Vintage was in late April allowing for a prolonged ripening period. The use of old and new oak integrate well but do not over power the fruit. Soft yet firm tannins and a lingering berry flavour will allow a medium term cellaring.` Now that you have just read an irresistabl...
Inverness Wines, NSW `Inverness` 101 Burkes Lane, Brewongle NSW 2795
Run by Peter McGrath the 2003 vintage included shiraz, cabernet and a shiraz cabernet blend. Open for tasting by appointment only....
Mount Panorama Estate Vineyard, NSW 151 Mountain Straight, Mount Panorama NSW 2795
Located in the heart of the iconic race circuit is Mount Panorama Estate. Our sixteen acre property not only boasts a great display of cool climate vines, but also the views overlooking Bathurst and the Blue Mountains. Since purchasing the property in 2010, we have combined the beauty of our location and the art of making amazing wines with the assistance of the best winemakers in the Central Western region. Mount Panorama Estate Vineyard is the home of Shiraz, Chardonnay, Cabernet Sauvignon and Semillon grape varieties. Our original vines were planted around 1999 and have been the foundation of many great wines since. Since 2010, our talented winemaker, Mark Renzaglia, has nurtured the vines to accomplish the immaculate cool-climate fruit which is then transformed into well prepared and enticing beverages.
Renzaglia Wines, NSW 38 Bosworth Falls, O'Connell NSW 2795
In we planted a hectare of Chardonnay, Cabernet Sauvignon and Merlot. We made our first wines in 2001 mainly as a hobby while I was working full-time as viticulturist/winemaker for Winburndale Wines. The hobby has grown to the point where Renzaglia Wines is now my sole occupation along with vineyard consulting and contract wine making. The Bathurst region is 'on the edge' when it comes to suitability for growing grapes. This is mainly due to its water limitations and frost risk in late spring. However, with good site selection and proper selection of grape variety, the fact that we are 'on the edge' is what helps us to produce wines with good balance between acidity and ripeness. We are a cool climate region but we are warm enough to be able to ripen many reds successfully. Also, most of the soils in the area are granite based and/or old, ancient and infertile. This also helps to give our wines a special character and interest.
Stockman`s Ridge, NSW 2160 Limekilns Road, Bathurst NSW 2795
Stockman`s Ridge is a diverse property with its focus on Wine, Cherries and Angus Beef Cattle, situated just north of Bathurst in NSW, Australia 3 hours west of Sydney and a beautiful drive over the world heritage Blue Mountains. From November to December we open our Orchard to individuals and groups to `Pick Your Own Cherries!` Our varieties are normally ripe and ready for picking the first week ...
Stone Pine Distillery, NSW 218 Gormans Hill Road, Bathurst
See the distillery, meet the distiller and sample our range of spirits and liqueurs at the bar. The distillery is located only five minutes from Bathurst city centre. Stone Pine Distillery was established in 2008 with the aim of crafting high quality, innovative spirits and liqueurs in an environmentally friendly manner. Our mixed fruit and nut orchard, which is managed under organic principles, p...
Vale Creek Wines, NSW 438 Cow Flat Road, Georges Plains 2795
You rarely see Italians drinking a wine by itself. Italian wines are meant to be enjoyed with food. Having good friends and family to share them with only makes them taste better. That`s what prompted us in 2001, to transform our property on the outskirts of Bathurst, into a winery specialising in Italian varietals. We welcome you to our website and we invite you to visit our winery in person. It`...
Winburndale, NSW 116 Saint Anthony`s Creek Road, Bathurst NSW 2795
Winburndale is covered in the remnants of old gold mines. And there is a great affinity between gold and quality wine. It has to do with ancient alluvial soils in shallow layers on the hillsides. These soils are less fertile and the vines are thus less vigorous. Winburndale Wines Vineyard Warm days and cool nights in summer and autumn produce a long ripening period. This leads to true physiologica...