Jump to Winery List
Mount View - Hunter Valley Wine District
The Mount View District includes all the area in the Mount View Wine Region. This small district is part of the Hunter Valley Wine Region is based on the Mount View Valley area south west of Cessnock. It includes the set of boutique wineries that are located along Mount View Road that runs from Wollombi Road junction near Millfield, north east to the Wollombi Road junction in Cessnock. The wineries in this region include: Petersons Family Wines, Briar Ridge Vineyard, Savanah Estate, Mount View Estate, Tallavera Grove and Milbrook Estate. There are several delightful bed and breakfasts in this tranquil hidden valley that are ideal places to stay and use as a base for exploring the local wineries and the large number of cellar doors available in the neighbouring regions of Pokolbin, Broke Fordwich, Wollombi and Lovedale, as well as the more distant areas of the Upper and Lower Hunter Valley Regions.

The Hunter Mountain View Wine Region is home to 1 district: Mountain View Wine District ;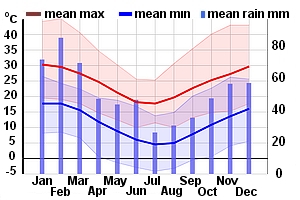 Winery Tour Map
Wineries
Bimbadeen, NSW Cnr Bimbadeen and Mount View Roads, Mount View NSW 2325
At Bimbadeen Estate you will experience quality villa accommodation surrounded by our vineyard high on the slopes of the Hunter Valley`s Brokenback Range and boutique wines grown on our rich volcanic soil on the eastern slopes of the Brokenback Range. What better place to have a vineyard than the source of that soil - the eastern slopes of the extinct volcanos of the Mt Bright and Mt View region o...
Briar Ridge Vineyard, NSW 593 Mount View Road, Mount View NSW 2325
Briar Ridge is located high on the slopes of Mt View, where draw our fruit from 70 acres of company-controlled vineyard. The vines are hand-nurtured and yields are kept down to only 2.5 tonnes per acre. At Briar Ridge, you'll find wines to savour, discover and surprise. Wander out our way and sample the Hunter Classics, or challenge your palate and try something different. (Tempranillo or Fiano anyone?). Whatever wine style you desire, you'll find it at our cellar door tasting bar – or if you prefer – while taking in the mountain and garden views from our famous Tasting Deck.
Carillion Wines, NSW 749 Mount View Rd, Mount View NSW 2325
We believe that all great wines begin in the vineyard. Over several decades, our founder, geologist Dr John Davis committed himself to seeking out ideal wine growing localities across the country, carefully selecting vineyard sites suitable for nurturing premium wine grapes. Under John's watchful eye, the Davis family established high quality vineyards in some of Australia's finest wine regions - from the Hunter Valley and Orange in New South Wales to Wrattonbully in South Australia. On these sites, we planted varieties and clones that take full advantage of the soil and climate. Through decades of judicious management of these blocks, we are able to ensure that we consistently deliver the best fruit possible to the winery, year after year.
Farrells, NSW Mount View Road, Mount View NSW 2325
Farrell`s Limestone Creek Vineyard is a boutique vineyard situated west of Cessnock in the area known as Mount View. The property was purchased in 1980 and grapes were planted progressively throughout the 1980`s. Their first vintage of bottled wine was in 1988. Limestone Creek is now an established vineyard with 18 acres under grape. The wines are available from their cellar door tasting facilitie...
Iron Gate Estate, NSW The corner of Inglis Lane and Oakey Creek Road, Pokolbin NSW 2320
Iron Gate Estate is one of the Hunter's finest boutique wineries. Inspired by the great winemaking traditions of Europe, Iron Gate Estate is a boutique, family-run winery in Pokolbin, producing unique, handcrafted wines that capture the true essence of the Hunter Valley.
Jackson`s Hill, NSW Mount View Road, Mount View NSW 2325
Jackson`s Hill vineyard, established in 1983, produces small parcels of Semillon, Cabernet Sauvignon and Cabernet Franc. The vineyard is one of the highest in the Valley, benefiting from cool sea breezes that moderate frequently hot summer temperatures. The Mount View region is well known for its deep volcanic soils, good fruit quality and premium wines. Land in the area is tightly held and eagerl...
Kelman Vineyard, NSW 2 Oakey Creek Rd, Pokolbin NSW 2320
Kelman is a well established boutique vineyard nestled in a quiet corner of the Parish of Pokolbin below Mount View. Focusing on classic Hunter varietals, Kelman planted Semillon in 1996 and enjoyed the first harvest in 1999. Chardonnay and Shiraz soon followed, and the first awards came along in the year 2000. Hundreds of medals and awards later, the vineyard is recognised as a boutique winery that consistently makes classic Hunter varietals with skill and a fine touch. The product range has expanded to include an award winning Blanc de Blanc Sparkling Chardonnay, Tempranillo and Rose plus some interesting blends and Muscat based wines. Kelman Vineyard has been recognised as a 4 1/2 star winery in the 2019 James Halliday Wine Companion. Kelman is also a unique community. Its 100 acres feature approximately 23 acres of vines in rich soil snaking their way around 80 residential dwellings. The interaction of residential and farming is unique and charming.
Millbrook Estate, NSW 1617 Mount View Rd, Millfield NSW 2325
Located in the Hunter Valley on Mount View Road, along the southern slopes of Mount View's renowned viticultural area. The vineyard overlooks the Wollombi Brook from its elevated position. Millbrook Estate is open for tastings 7days a week from 10am to 5pm. Visitors are always welcome. Small groups can enjoy a private tasting in our tasting room by arrangement.
Montvalley, NSW 150 Mitchells Road, Mount View NSW 2325
John and Deirdre Colvin bought 150 acres of vacant land at Mitchells Road, Mount View in January 1998. John and Deirdre had looked at dozens of properties over the previous decade, and none had appealed until Montvalley was seen. Prior to finalizing the deal, the soil was tested for growing grapes, since John Colvin had had a dream of building a vineyard for many years. Jay Tulloch looked at the l...
Mount View Estate, NSW 502 Mount View Road, Mount View NSW 2325
Mount View Estate is nestled in the foothills of the beautiful Mount View Mountain Range. Mount View Estate was first planted over 30 years ago in 1971 by Harry Tulloch. The Vineyard site was chosen for its rich basalt volcanic soils (which is considered to be some of the best soils in the Valley). The combination of these wonderful soils, mature vines and the wineries dedication to producing High...
Petersons Wines, NSW 552 Mount View Road, Mount View NSW 2325
Petersons is a boutique winery with a secret... the secret of making fine wine. Petersons has been producing fine wines for 25 years. Find out why Petersons is the most successful family winery in the Hunter Valley. Ian Peterson, a pharmacist, his wife Shirley and son Colin purchased an old dairy farm known as Glenesk at Mount View in 1964, with the intention of raising beef cattle. In 1971 ten ac...
Savannah Estate Wines, NSW 312 Mount View Rd, Cessnock NSW 2325, Australia
Savannah Estate Wines are produced from small select parcels of premium fruit grown in renowned viticulture regions throughout Australia. We hand select varietals from Australia's most unique regions and produce wines that best reflect their unique regionality and character. Savannah Estate lies on the beautiful gateway to Mount View, which boasts some of the most stunning views of the whole Hunter Valley. Take the time to come and visit us at Savannah Estate, and the friendly staff will gladly guide you through a tasting of our wide range of luscious wines. Savannah is the youngest granddaughter of the renowned Petersons Family, and we hope that she will continue this passion that has become part of our heritage.
Tallavera Grove, NSW 749 Mount View Road, Mount View NSW 2325
A visit to Tallavera Grove is a unique experience. The stunning views and vineyard covered hillsides of this serene, tranquil valley are as rewarding to behold as the wines are to taste. The winery at Tallavera Grove selects small parcels of premium fruit from the Davis family vineyards located in areas such as Coonawarra, Wrattonbully and Orange as well as Mount View. Tasting times are: Friday to...