Jump to Winery List
Wollumbi - Hunter Wine District
The Wollumbi Wine District is the only district in the small Region of the same name based on the area surrounding the small towns of Leguna and Wollombi, located at the junction of Paynes Crossing Road, Great Northern Road, and Wollombi Road, south of Pokolbin and south west of Cessnock. It includes several boutique wineries: Wollombi Village Vineyard, Undercliff Winery and Studio and Noyce Bros Wines. The area has a delightful mountain valley setting, enclosed by State Forests that are ideal for hiking, scenic drives, bushwalking, camping out, mountain bikes, 4WD adventures and discovering the abundant native flora and fauna that abounds in the area. This is a great place to stay for a week-end or longer vacation or wine tours in the surrounding regions of Pokolbin, Broke Fordwich, Lovedale, and the more distant Lower and Upper Hunter Valley Regions.

The Wollumbi Wine Region is home to one district: Wollumbi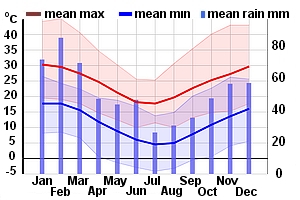 Winery Tour Map
Wineries
Noyce Bros Wine, NSW 2884 Wollombi Road, Wollombi NSW 2325
Noyce Brothers Wines is a boutique wine producer at Wollombi in the Lower Hunter Valley. Through the unique combination of soil and climate our vineyards produce quite distinctive Hunter style wines, particularly our semillon and shiraz. The wines are now available for tasting and purchase from a retail outlet in the centre of the Wollombi village.
Stonehurst Cedar Creek Vineyard, NSW 1840 Wollombi Road, Cedar Creek NSW 2325
'A great wine begins in the vineyard'. Here at Stonehurst, the 5th generation Heslop family remain committed to organic sustainable agriculture. Our elevated trellis captures sunlight and airflow enhancing fruit quality and flavours. Vines are hand pruned, all fruit hand picked. The result of this labour of love are award winning wines from a very healthy vineyard. Enjoy a wine tasting at our cellar door or stay overnight in a delightful vineyard cottage. Enquire about our great deals, seasonal events, or hosting your own celebration on our stunning property.
Undercliff Winery & Gallery, NSW 152 Yango Creek Road, Wollombi NSW 2325
A Ferment of Art and Wine! You will be made very welcome at our cellar door. Wines are made on site and we are well known for our vintage and sparkling wines and our bird labels! Art is for sale from local and internationally acclaimed artists and we are home for 'Sculpture in the Vineyards' an annual exhibition held in November. This historic property was proclaimed 'Undercliff' in 1846.The vineyard was planted in 1990. The original homestead is now available for unique secluded accommodation. Roam around the vineyard, olive grove and winery or just relax enjoying the Australian flora and fauna. In winter relax in the warm cosy atmosphere of an open fire.
Wollombi Village, NSW 2971 Paynes Crossing Road, Wollombi
Taste our Chardonnay, Shiraz, sparkling and Rose wines in our air conditioned Cellar Door, right in the centre of Wollombi and amongst the grapevines! Other products available include our own specialty liqueurs: Limoncielo, Dolzetto Bianco or Rosso, Amaroe, Fenochietto, Fragolino, Mango, Cafe Espresso and Passione, our vinegars; as well as local Laguna Lavender products, Hunter Valley Soaps and ha...
Wollombi Wines, NSW 25 Charlton Street, Wollombi NSW 2325
Wollombi Wines is a Boutique Vineyard and Cellar Door, 1km from the historic village of Wollombi. Wines available are traditional Shiraz and Semillon. We also produce a range of light easy drinking wines including Moscato, White Splash, Fiori, and our luscious lower alcohol Bella Frizzante. In a strikingly beautiful setting bordered by the Wollombi Brook, Wollombi Wines is an ideal place to taste great wines, relax and if you wish enjoy a picnic. Group bookings and car clubs are welcome.