Jump to Winery List
Young Wine District
The Young District is located at the heart of the Hilltops Region in Southern New South Wales, located about four hours south-west of Sydney. Young is the home of the National Cherry Festival and the town is surrounded rolling farmland and vineyards. Young has a rich heritage and a lot of character and is renowned for its fantastic fresh produce, especially stone fruit such as cherries. Many of the local vineyards have cellar doors where you can taste the unique boutique cool-climate wines. In the surrounding area are the intriguing towns of Harden and Boorowa, each of which has its own individual history and identity, and attractions. Some of the major attractions and activities are: # Picking your own beautiful cherries from late November to December, at one of the delightful orchards in the area. # Admire the cherry blossoms in September and October # Visit the The Historical Museum in Murrumburrah-Harden, which is where the famous Australian Light Horse Regiment began. # Enjoy the Young Annual Show, held in September.

The Hilltops Wine Region is home to three districts: Young ; Boorowa ; Harden.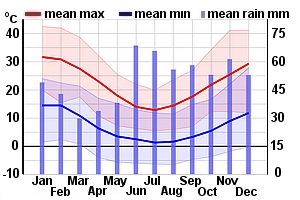 Winery Tour Map
Wineries
Ballinaclash Orchard and Cellar Door, NSW 4321-4335 Olympic Highway Young NSW 2594 Australia
As of March 29 Ballinaclash Cellar Door will be open three days a week! Friday, Saturday and Sunday 10am-4pm. From November pick your own cherries and apricots in season. Taste the various varieties of cherries as you pick your own fruit straight off the tree. There is nothing more delicious than fresh fruit plucked straight from the tree. Bring a picnic lunch, morning or afternoon tea, relax in the shady picnic area or make use of the free electric barbecue. Clean amenities are available on site. Buses and coach groups welcome, please make a booking. Ballinaclash shed shop sells a large range of products including sun ripened stone fruit in season. Ballinaclash jams include cherry, apricot, fig, quince and strawberry. They also stock a range of sauces, honey, prunes and a variety of other local produce. All the jams and sauces are made from fruit grown on Ballinaclash orchard. The shed shop also stocks a large variety of cold drinks, Ballinaclash wines and cherry reserve.
Binbilla, NSW Good Friday Gully Road, Mainuru, NSW
Binbilla is an immaculate boutique vineyard in the Hilltops region. The focus at Binbilla is to produce premium wines from low yielding, handpicked grapes. A delicious highly fruit driven wine showing very nice ripe fruit characteristics. This wine is great or now and will cellar well for 5-7 years....
Chalkers Crossing, NSW 387 Henry Lawson Way, Young NSW
The Chalkers Crossing vineyard and winery are in Young in the Hilltops Region of New South Wales. We planted our first vines in late-1997 and made our first wines in March 2000. At Chalkers Crossing we focus on producing premium quality cool climate wines. Our wine varieties include Riesling, Semillon, Shiraz, and Cabernet Sauvignon produced from grapes grown on our vineyard in the Hilltops Region...
Freeman Vineyards, NSW 101 Prunevale, Prunvale NSW 2594
The home block vineyard (560 metres elevation) was established in the Hilltops region of NSW in 1999. The vines are trained to a bilateral spur-pruned cordon and the canopy is vertically shoot positioned. In 2004 we acquired the neighbouring property, one of the original vineyards in the Hilltops region developed over three decades ago. Significantly, the plantings include mature 35-year-old pinot...
Grove Estate Winees, NSW 4100 Murringo Road, Young, NSW 2594
Grove Estate have quietly built an international following for their wines, which include both traditional reds and whites and some interesting Italian varietals. The extraordinary partnership of viticulturalist Brian Mullany with winemakers Richard Parker and Tim Kirk has resulted in a run of notable wines that have produced exciting results at many Wine Shows across Australia. All told over the ...
Hansen Hilltops, NSW 1 Barwang Rd, Young NSW 2594
Cellar Door: 10am - 6pm Friday to Monday - check before visiting...
Lindsay's Woodonga Hill Winery, NSW 1101 Olympic Highway Young NSW 2594 Australia
Visit Lindsay's Woodonga Hill Winery and sample their the wine, made and grown locally in the area known as the Hilltops Region.
Lockwood Vineyard, NSW Tipperary Lane 29 Young NSW 2594 Australia
Lockwood is a small family owned and operated vineyard which produces a range of boutique wines. Grapes are hand-picked and all wine making is done using traditional methods including a small basket press. They generally crush between three - four tonnes, so each wine is limited to 500-600 litres and each vintage reflects the particular growing conditions of that season. Please note: Tastings by appointment only.
Moppity Vineyards, NSW 2800 Moppity Road, Young, NSW 2594
Moppity Vineyards sits in the heart of the Hilltops region 12km SE of Young NSW, high on the slopes of Black Range at an elevation of 600m, and was among the foundation vineyards established in the Hilltops. The original blocks were planted in 1973, and produce exceptional fruit. We carefully select the vineyard`s very finest fruit, typically from the old, low-yielding vines - representing less th...
The Grog Shed at Wombat Cellars, NSW 93 Wombat Road Wombat NSW 2587 Australia
Located in the village of Wombat, meters from the famous Wombat Hotel, formally known as the Grog Shed, the Wombat Cellars sells a selection of local Hilltops Wines, Cherry wine and the famous Wombat Widdle. None of the wines or liqueurs have any artificial preservatives or additives and will keep for years after being opened. List of their liquors: Cherry Port Wine, Limoncello, Wombat Widdle, Walnut Rum, Sugar Plum Wine, Blood Plum Wine, Cherry Finishing Vinegar.
Trandari Wines, NSW 340 Wirrimah Road, Bendick Murrell NSW 2803
Welcome to Trandari Wines, specialist producer of high quality Nebbiolo and Shiraz wines from the Hilltops region of New South Wales. The Hilltops region is centred on the major provincial centre of Young and enjoys a growing reputation as a source of high quality wines. The production of Trandari Wines is based on organic viticultural methods and our goal is to provide hand crafted premium wines ...