Jump to Winery List
Merbein Wine District
The Merbein Wine District includes vineyards and wineries along the Murray River in the far western corner of Victoria, close to the border with New South Wales and South Australia. It includes the area surrounding the townships of Merbein, Dareton, Birdwoodton, Cabarita. The Merbein Wine District has a Mediterranean climate with mild winters and hot dry summers, and most rainfalls falls between autumn and Spring. Rainfall averages about 280-350 mm per year. Summer is hot with plenty of sunshine, warm days and warm nights, and maximum temperatures can reach 35-40 degrees centigrade. While a wide variety of varieties are grown, most emphasis is on Cabernet Sauvignon and Chardonnay and several varieties used to produce fortified varieties such as Semillon, Muscat, Gordo Blanco and Colombard. Harvest time is generally from late January to as late as mid March or April. Mean January temperature is about 24 degrees C; Sunshine hours per day is 9.7. The wonderful wineries in the district include: Mildara Blass Merbein, Purple Patch Wines and Roberts Estate Wines.

The Victorian Murray - Darling Wine Region has a single district : Merbein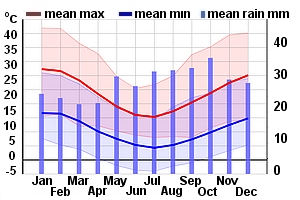 Winery Tour Map
Wineries
Mildara Blass, VIC Wentworth Road, Merbein, Vic 3505
Beringer Blass is one of Australia largest wine companies and owns such labels as Andrew Garrett, Baileys, Balgownie, Church Hill, Ingoldby, Jamiesons Run, Krondorf, Metala, Quelltaler, Robertson`s Well, Rothbury, Saltram, St Hurberts, Yarra Ridge and Yellowglen. Beringer Blass Wines Estates is a global leader in premium wine. The group`s Australian winemaking heritage dates back to the late 19th ...
Purple Patch, VIC 101 Main Ave, Merbein Victoria, 3505
Follow 17th St (Calder Highway) from Mildura towards Merbein. Cellar Door is on left hand side of road. - Wine Tastings and Sales; Fresh Local Produce; Giftware and Furnishings - Purple Patch Pine; Indoor and Outdoor Areas; Local Art On Display....