Jump to Winery List
Glenrowan Wine District
Glenrowan Wine District includes wineries surrounding the Central Victorian town of Glenroan, which is famous as the site of the final siege, shooting and eventual capture of bushranger Ned Kelly and his gang in 1880. The story of the Kelly Gang is preserved and re-enacted in Glenrowan's many attractions, museums and historic walk around the town. Glenrowan is located on the Hume Freeway a short distance south of Wangaratta and west of the Warby Ranges. Glenrowan has a long and rich wine making history. stretching back over 130 years and a reputation for full-bodied reds, particularly Durif and Shiraz, and fortified wines such as Tokays, Muscats and fragrant full-flavoured whites. Join in the celebration for the Glenrowan Trails, Tastings and Tales food and wine festival. During a fabulous weekend visitors can enjoy a range of tastings, displays, food and entertainment. The Glenrowan Winemaker's Weekend is held in October each year. You can also enjoy bushwalking, bike rides and wonderful wildlife and flora by visiting the many nature reserves in the area including Warby Range State Park, Lake Mokoan and up into the Alpine Valleys and Mt Buffalo.

The Glenrowan Wine Region includes one district : Glenrowan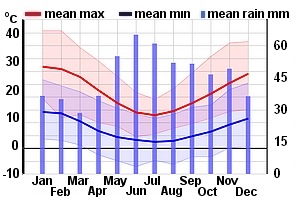 Winery Tour Map
Wineries
Baileys of Glenrowan, VIC 779 Taminick Gap Rd, Glenrowan VIC 3675, Australia
Set into the lower slopes of the Warby Ranges, and fringed by the Winton Wetlands to the west, Baileys of Glenrowan occupies a very special piece of North-East Victoria. Established in 1870, the certified organic vineyard contains some of the oldest plantings in North East Victoria, upon which Baileys have established a reputation for powerful red wines and globally acclaimed fortifieds.
Black Dog Brewery, VIC 339 Booth Road, Taminick, Victoria, 3675
Black Dog Brewery is a craft brewery located at Taminick Cellars winery in the heart of Glenrowan Wine region in north east Victoria. Black Dog Brewery's beers are hand crafted from premium malted barley, hops and yeast strains with pure Warby Range water. Hand crafted small batch brews made using traditional techniques and no preservatives ensure each beer is of the highest quality, the way beers are meant to be.
Booth's Taminick Cellars, VIC 339 Booth Rd, Taminick VIC 3675
Booth's Taminick Cellars is one of the family-owned wineries that make Australia's wine story so fascinating. The old granite winery occupies an isolated slope in the shadow of the forests and inclines of the timeless Warby Range. Taminick Cellars has been owned by the Booth family since 1904, with a winemaking history spanning over four generations on the same site at Taminick. Enjoy tastings in the century old cellar lined with several of the original cavernous barrels. There are full-flavoured red wines such as Shiraz, Durif and Cabernet Sauvignon with some estate vines dating back to 1919. The Italian varietal Nero d'Avola was planted in 2008 and is a welcomed addition to the red wine list. Luscious Muscat, Ports, refreshing whites and Rose are also produced. Sample a handcrafted beer from the on-site brewery. Black Dog Brewery produces four preservative-free beers in the core range with limited release specialty beers also brewed. Accommodation is available in the winery's self-contained cottage.
Morrisons of Glenrowan, VIC 30 Kays Lane, Glenrowan, Victoria, 3675
Morrisons of Glenrowan is nestled on an eastern slope of the Warby Range in Glenrowan, North East Victoria, Australia. Morrisons winery produces red and white wines including Shiraz, Durif, Tempranillo and Primitivo. Morrisons also produce crisp, fruit driven white wines and sell beautifully aged Grand Tawny port and Classic Muscat. The red wines are of stunning depth and character typical of the unique terroir of the Glenrowan wine region. Morrisons of Glenrowan are aged in oak casks and estate-bottled by winemakers Bob and Dianne Morrison. The charming mud brick cellar door is a delightful place to taste and buy the red and white wines, or enjoy a delicious local produce platter with friends while taking in the spectacular mountain views amongst the cultivated bush garden.