Jump to Winery List
Scenic Rim Winery Collection and Information
A collection of wineries and cellar doors located in the Scenic Rim area. The Scenic Rim Wine Region lies in the vicinity of an ancient shield volcano. It covers the area inland of the Gold Coast hinterland. It extends northwards from the NSW border to Tamborine Mountain and Marburg in the north. It lies south of Ipswich and Marburg and near the towns of Purga, Mt Alford, Harrisville and Boonah.

The Scenic Rim Wine Region includes one district : The Scenic Rim Collection ;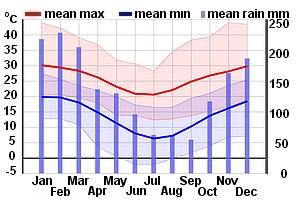 Winery Tour Map
Wineries
Albert River Wines, QLD 869 Mundoolun Connection Road, Tamborine
Stand on the deck of Auchenflower House overlooking lush green valleys of vines. The restaurant serves modern Australian cuisine and Devonshire tea. Nearby the property's old billiard room acts as the cellar door for tastings.
Bunjurgen Estate, QLD 121 Brent Road Bunjurgen Queensland 4310 Australia
Bunjurgen Estate verjuice, wines and ports are made at Ballandean Estate winery located at Ballandean on the Granite Belt just south of Stanthorpe. Ballandean Estate has a well-known reputation as a leading Queensland winery and the winemaker and the Bunjurgen Estate executive tasting team deliberate and discuss each year's vintage and ensure that the verjuice, wines and ports produce a unique finish and our desired market appeal. Ballandean Estate produces, bottles, labels and packs our wine for return to Bunjurgen Estate where it is stored in a controlled climate environment between 15 and 18°C, and then sold from our Cellar Door to both individual and corporate clients.
Canungra Valley Vineyard, QLD 852 Lamington National Park Rd, Canungra QLD 4275
On the way up to O'Reilly's stop into the Canungra Valley Vineyard for tastings and perhaps enjoy a picnic on the lawn. The property backs onto a creek and if you're quiet enough you might just spot a platypus.
Flinders Peak Winery, QLD 1544 Ipswich-Boonah Rd, Peak Crossing QLD 4306
Flinders Peak Winery is an 80 acre property located at 1544 Ipswich Boonah road, Peak Crossing, only 45 minutes drive from Brisbane CBD. The region is classified as the Scenic Rim, and is South East Queensland's food bowl. The vineyard was established over two years, with initial planting taking place in 2003 and subsequent planting in 2004. The vineyard area is 47 acres, consisting of over 19000 vines, separated into 6 blocks, planted to six different clones of Shiraz on Paulsen rootstock. Our Meyer lemon orchard was established in 2006, and consists of 300 trees planted over 5 acres. We have evolved in recent years to include a Wine production facility and distillery, Cellar door, 20 on-site accommodation villas that can house up to 80 guests from overnight to eight weeks, and a function area for weddings. We can be found on Facebook, Instagram, and Air BnB.
Kooroomba Vineyards, QLD 168 F.M. Bells Rd, Mount Alford via Boonah QLD 4310
Quality wines including Chardonnay, Verdelho Marsanne, Shiraz, Cabernet & Merlot. Award-winning restaurant cradled by the picturesque Scenic Rim mountains, surrounded by vineyards and lavender fields. Fully air-conditioned. Special group and seniors menus available.
Mason Wines, QLD 32 Hartley Road, Tamborine Mountain
Visit Mason Wines Mt Tamborine where the cellar door staff will guide you through Mason's extensive range with styles and varieties to suit all palates. The weekend tasting cellar door boasts some impressive wine racks, hinterland views from the adjoining deck as well as a log burning fireplace with lounge area for the cooler months. Please refer to the following Wine Lists for Mason Wine's current vintages and prices. We offer a Lunch Package for Group Bookings (for 12 people or more). We can provide a 2 course Lunch Menu or alternatively we can provide a 'grazing style' long lunch ($35 per person). Group bookings are allocated exclusive use of our cellar door deck or private function room.
Mt Tamborine Vineyard & Winery, QLD 128 Long Rd Eagle Heights QLD 4271
Mt Tamborine Vineyard & Winery was the first to establish vines in the area. Head to the cellar door 8:30am-4pm every day and while there enjoy something light from the menu including arancini, bruschetta or an antipasto board. Cedar Creek Estate Vineyard and Winery 104-144 Hartley Rd, North Tamborine QLD 4272, Australia https://cedarcreekestate.com.au/ Stop by Cedar Creek for the largest range of wines in the Scenic Rim. The cute estate has sprawling gardens, a restaurant and a purpose-built glow worm cave.
O'Reilly's Canungra Valley Vineyards, QLD 852 Lamington National Park Road, Canungra, 4275
A well established vineyard and cellar door in the Canungra Valley. If you are heading up to O'Reilly's Rainforest Retreat, or exploring the beauty of the Canungra Valley, stop in at O'Reilly's Canungra Valley Vineyards. Enjoy a sample of our finest wines, stay for lunch or purchase a gourmet picnic basket and stretch out by the creek with a bottle of bubbles. You'll be glad you did! Growing Verdelho, Semillon, Chambourcin, and Shiraz on their picturesque grounds, wine club members enjoy the annual harvest celebrations. Open seven days with a restaurant and picnic grounds on site.
Paradine Estate Wines, QLD 38 North Street, Harrisville QLD 4307
Paradine Estate Wines is a picturesque boutique winery situated in the town of Harrisville, just 20 minutes from Ipswich. Situated on a rolling hill, it has beautiful views of the Teviot ranges and Mt Flinders to the east and the Great Dividing Range to the west.
Sarabah Estate, QLD 46 Rymera Rd, Sarabah, QLD 4275
This family-run winery is nestled at the base of the famous Lamington National Park. Just 10 minutes from the township of Canungra, the bistro has a cafe menu to pair with wine tastings.
Sirromet, Qld 850-938 Mount Cotton Road, Mount Cotton,Queensland 4165
Sirromet is Queensland`s largest and most highly awarded winery - winning numerous prestigious awards for their outstanding wines and facilities. The Mount Cotton headquarters combines a fully operating vineyard, winery, cellar door and restaurant in a location alive with breathtaking views, natural scenery and abundant wildlife. Only 35 minutes drive South-East of the Brisbane CBD, this world cla...
The Overflow Estate, QLD 1660 Beaudesert-Boonah Rd, Beaudesert, QLD 4285
We felled the iron bark in our own forest in 2010, snicked and barked the logs, and had several hundred split posts fashioned. A local fencer drove them into the ground. We erected the wires, planted the root stock in 2012 and nurtured the four varieties that now underpin our offerings. We chose Vermentino, Fiano, Montepulciano and Tempranillo because of their Mediterranean origins, their love for our native terroir, their undeniably gorgeous fruit and as a point of difference to the scores of struggling vineyards producing the usual chardonnay and shiraz.
Witches Falls, QLD 79 Main Western Rd, Tamborine Mountain QLD 4272
We source the majority of our fruit from the Granite Belt – Queensland's premier wine growing region. The Granite Belt is located on the Great Dividing Range 200km South West of Brisbane and 95km inland.