Jump to Winery List
Mt Tamborine Gold Coast Hinterland Wine District
The Gold Coast Hinterland is the green behind the Gold Coast with sub-tropical rainforest, waterfalls, magical flora and fauna and magnificent views to be enjoyed from the many national parks. Including the beautiful rainforest of Mt Tamborine and the roling green countryside of Canungra and Albert River, this is one of the best boutique wine regions in Queensland with many delightful cellar doors and restaurants. The Hinterland showcases an amazing array of about 30 nature reserves and national parks, incuding World Heritage-listed national parks, and some of Queensland`s largest subtropical rainforest parks, and the world's largest volcanic caldera (the core of which is Mt Warning).There are more than 300 kms of walking trails in the area. The Gold Coast Hinterland Wine District is a very fast growing region and it encompassing the cooler climate areas surrounding Mt Tamborine and Springbrook, and extends to the coooler climates of the Canungra Valley and Albert River. The region is suitable for wide range of grape varieties to be grown. These range from plantings of Verdelho, Chambourcin and Semillon, through to Cabernet Franc, Shiraz, Merlot and Chardonnay. Tourists and locals can enjoy the hospitality of wine tasting around the many Gold Coast wineries in the Gold Coast hinterland region. The new and popular wine trail in the Gold Coast Hinterland is ever increasing and collecting medals and awards on the way. The cellar doors and wineries operate from historic homesteads and incorporate tasting and restaurant facilities. All the wineries offer a relaxed setting for their wine tastings and vineyard tours. Tamborine Mountain is a plateau 8 kilometers long and 4 kilometers wide. It's origin dates back 22 million years when the nearby Mount Warning volcano flooded the surrounding area with lava. The Mount Tamborine plateau consists of some 2,800 hectares of very fertile red soil and the highest locations are at around 560 meters above sea level. It's the unique combination of volcanic soil, position, height above sea level and climate which provide for the growth of a lush subtropical rainforest and superb wines.

The Gold Coast Hinterland Wine Region includes two districts : Mt Tamborine Coastal Border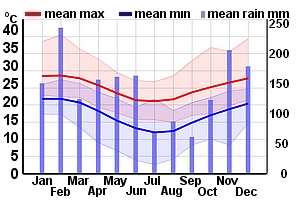 Winery Tour Map
Wineries
Albert River Wines, QLD 1-117 Mundoolun Connection Road, Tamborine
Albert River Wines, one of Queensland`s newest boutique wineries, is located at one of the State`s oldest properties, Tamborine House. Their wines are handcrafted in limited quantities by winemaker Peter Scudamore-Smith, one of Queensland`s two Masters of Wine. The Winery is owned and operated by former airline marketing executives David and Janette Bladin. The Bladins purchased the property in 19...
Aussie Vineyards, QLD 32 Hartley Road, North Tamborine, QLD, 4272
Aussie Vineyards has become one of the fastest growing QLD wine producers with an eye to providing a diverse portfolio of wines to satisfy any palate. Come visit our Cellar Door where you will be greeted with a good old fashion smile and service. Let our professional and knowledgeable staff take you on a journey through our extensive range of wine and retail shop. In addition to wine tasting we pr...
Canungra Valley, QLD Lamington National Park Road, Canungra Qld 4275
Canungra Valley Vineyards is owned and operated by the O`Reilly family. The homestead, Killowen, was built in Warwick in 1858, and moved to its current site in 1989. The boutique vineyard was established in front of the sweeping verandahs in 1998. The vines were planted by over a hundred and fifty locals, many who then helped harvest the first crop in March 2000. Nestled in the emerald Canungra Va...
Castle Glen Mt Tamborine, QLD 138 Long Rd, Tamborine Mountain QLD 4272, Australia
He does not tamper with the wine by adding preservatives, chemicals or enhancers - Cedric encourages the grapes to proclaim their own beauty to the world. He says, "A truly great wine is made only of grapes!" Castle Glen's grapes are not sprayed with harmful pesticides, nor are they fed with artificial fertilizers. Our healthy, well-established grape vines are carefully tended, preened and pruned, well-fed and nourished using the best natural traditional methods available - and this alone ensures a bountiful harvest. At harvest time, all of our grapes are hand-picked.
Cedar Creek Estate, QLD 104 Hartley Rd, Tamborine Mountain Qld 4270
The Cedar Creek Estate Vineyard and Winery was officially opened on 4 November 2000. The property consists of 24.5 acres located on magnificent Tamborine Mountain approximately 550 metres above sea level, and as its name suggests, Cedar Creek flows through the property. Its reaches are currently being rejuvenated to ensure the lasting protection of the platypus that make Cedar Creek their home. Th...
Hampton Estate Wines, QLD 52 Bartle Rd, Tamborine Mountain QLD 4272, Australia
Situated on the beautiful Tamborine Mountain, the hinterland offers a unique experience. Tamborine Mountain has become a very popular place for day tourists with its short drive of 30 minutes from the Gold Coast and 40 minutes from Brisbane. Produced on Tamborine Mountain, Hampton Lane is a breath of fresh air for wine lovers. Our very own label is exclusive to Hampton Estate and is available to enjoy both at the restaurant and cellar door.
Heritage Wines, QLD Cnr Bartle Road and Shelf Road, Mt Tamborine
Heritage Wines at Mt Tamborine is a small family owned and operated boutique winery. With its vineyards in Stanthorpe, the range of wines available in the cellar door has a long history of wine awards. The original vineyard was established in 1993, with plantings of Chardonnay, Merlot, Shiraz and Cabernet Sauvignon. The Roswal Shiraz 1998 is one of the signature wines of Heritage. Only a small amo...
Mount Nathan Winery, QLD 220 Clagiraba Road, Mt Nathan, Qld 4211
Mount Nathan Winery is a family-owned Australian business situated amongst the shades of the Paulownia plantation on the lush Clagiraba Creek, in the scenic Gold Coast Hinterland, South Eastern Queensland. They are close to all major facilities, and are only 20 minutes from Surfers Paradise, 15 minutes from theme parks, 45 minutes from Brisbane, and 30 minutes from Tweed Heads. Mount Nathan Winery prides itself on its unique fortified honey range as well as aged fortified barrel wine and signature wine which accompany their range of award winning table white and red wines! They also sell their honey from their 200 onsite fully working bee hives. Relax on their large outdoor veranda or in the air conditioned winery and enjoy the range of attractions at the property such as sheep feeding, bee observation, sampling wine from the barrel, hands on production and wine tasting. They also can individualise your 150 millilitre bottle of wine with a picture. Interactive, educational, and team building activities for incentive groups are also provided.
Mt Tamborine Estate, QLD 32 Hartley Road, Mount Tamborine Qld 4272
The oldest winery and vineyard in the Gold Coast Hinterland, this stunningly beautiful property is now operated by Richfield Vineyard and Cassegrain Wines bringing French winemaking tradition and heritage to the region. Their Merlot, Cabernet Franc and Malbec vines are hand picked early to retain freshness and fruit quality. The winery has a processing capacity of 60-80 tones and uses oak barrels ...
O'Reilly's Canungra Valley Vineyards, QLD 852 Lamington National Park Rd, Canungra QLD 4275
Nestled in the picturesque Gold Coast Hinterland, O'Reilly's Canungra Valley Vineyards is a multi award-winning, family owned and operated vineyard dedicated to boutique wine, experiencial dining and unforgettable events. Surrounded by rolling hills, grazing cattle properties and country homes, it is the ideal location to dine, swirl and sip amongst nature. Established in 1998 by the O'Reilly family, the 15-acre manicured property features historic 'Kiloween' homestead, equipped with intimate dining rooms, sweeping verandahs and a cellar door. Plus, an outdoor Wine Cellar and luxury white marquee - making this an ideal venue for corporate and special events such as weddings. Dine overlooking 6,000 grape vines including Shiraz, Chambourcin, Verdelho from the Vintage Restaurant verandah, or pre-order a gourmet picnic hamper or cook-your-own barbeque pack and enjoy beside the bubbling Canungra Creek - home to elusive platypus and turtles. The Vineyard is located on Lamington National Park Road - adjacent to World Heritage - listed Lamington National Park and home to famed O'Reilly's Rainforest Retreat (Retreat) a further 40 minutes drive up Green Mou
Sarabah Estate Vineyard, QLD 46 Rymera Rd, Sarabah QLD 4275, Australia
Jon Heslop, Sarabah Estate Vineyard's wine maker, has had over 12 years experience in the wine industry. After spending 3 years as a wine sales representative with Orlando-Wyndham he decided his real passion lay in winemaking. His winemaking career began as a cellar hand with Richmond Grove in the Barossa Valley. He then moved to the Hunter Valley where as winemaker at Tamburlaine Wines he was influenced by Rod Kemp of Lakes Folly, PJ Charteris of Brokenwood and Andrew Thomas of Thomas Wines. In 2004 Jon moved back to Queensland to establish Witches Falls Winery.
Sirromet Winery, QLD 850 Mount Cotton Road, Mount Cotton QLD 4165
Located at Mount Cotton, Sirromet is home to more than just premium wine. A family owned and run winery, just a short drive from Brisbane and the Gold Coast incorporates state of the art facilities, accommodation, dining, wine tastings and a year-round calendar of entertainment. In 2000, the cellar doors swung open to the public and is now recognised on the world stage, boasting over 900 awards for their exquisite selection of Granite Belt wines, which utilises traditional wine making methods along with new technology. The finest quality of wines can be sampled directly from Sirromet's Cellar Door or many enjoy a behind the scenes tour, giving you a fuller appreciation of the Granite Belt's most famous drops. The same philosophy Sirromet have in pursuit of winemaking excellence extends to the onsite restaurants, where you'll find the freshest local, regional produce prepared by Executive Mathew Fulford. Restaurant Lurleen's offers the ultimate fine dining experience, with Tuscan Terrace offering a more relaxed alfresco food experience both the perfect place to delight your senses surrounded by the rolling hills of the well-manicured Sirromet grounds. With something onsite to suit the whole family, you'll be truly amazed at what you discover at Sirromet.
Tamborine Mountain Distillery, QLD 10 Macdonnell Rd, Tamborine Mountain, QLD 4272
Tamborine Mountain Distillery is Australia's most awarded distillery (more than 300 international awards) and liquor brand in the new millennium. Hidden away in the beautiful Gold Coast hinterland . With rich red volcanic soil and fresh spring water, the abundant fruit of the mountain is fermented and distilled to make many of the famous drinks. This boutique distillery manufactures fine Liqueurs, Schnapps, Vodka, Gins, Eaux de Vie and hand made Liqueur Chocolates. The Tamborine Mountain Distillery has been opened since 1998. establishing a very enviable reputation, largely developed by word of mouth, with thousands of visitors each month.
Thumm Estate, QLD 87 Kriedeman Road, Upper Coomera, Qld 4209
Nestled in a magnificent majestic valley at the base of the Gold Coast`s Mount Tambourine, Managing Director / Oenologist Robert Thumm continues his family`s three hundred year heritage of viticulture and winemaking. Thumm Estate Winery presents an idyllic setting for picnics and walking, surrounded by handcrafted gardens and lakes. There are underground cellars for bottle storage and where ancien...
Witches Falls Winery, QLD 79 Main Western Road, North Tamborine Qld 4272
At Witches Falls their passion is wine – they love growing it, making it, drinking it, and matching it with all kinds of foods but most of all, they like sharing it with friends. They take pride in creating handcrafted wines that you not only love to drink but that also draw you into their world. Locating the working winery on Tamborine Mountain was also part of the plan. The beautiful Gold Coast Hinterland is the ideal destination for visitors doing day trips from Brisbane and the Gold Coast while still being close enough to the Granite Belt region where most of their grapes are grown. Walk inside the intimate Witches Falls Cellar door to do a wine tasting and you will quickly realise this is a unique opportunity to experience something vastly different. As wine writer Tony Harper so aptly put it: "Witches Falls wines shine with individuality and confidence melded with regional style."