Jump to Winery List
Flinders Island Wine District
The Flinders Island Wine District includes all the delightful towns and villages on Finders Island which is located in the Bass Strait about 20 km off the north-eastern tip of Tasmania. The villages include: Badgers Corner, Whitemark, Ranga, Emita, Lady Barron, Palana, Killiecrankie, Strzelecki, and Memana. Flinders Island which is rectangular in shape is about 70 km long and 40 km wide. Popular atttractions include fishing, bushwalking, scuba diving and snorkeling, swimming, surfing and just relaxing on the many secluded beaches dotted around the island (bring your wetsuit). You can hire a car and go exploring the many scenic attractions around the island and the villages. These include bushwalking around the base of Mt Strzelecki and climbing to the summit. Visit the island museum and the many historic buildings on the island. There is a wide range of accommodation at Lady Barron and Whitemark and many holiday houses dotted around the island. The wineries on the island include: Unavale Vineyard which is located at Badgers Corner. Flinders Island can be accessed on the regular airs services from Melbourne and Launceston with Airlines of Tasmania. Charter flights from Tooradin, Gippsland, Melbourne, in Victoria, and from Bridport in Tasmania and any other airport of the customers choice. The flights land at either Whitemark or Lady Barron airports. There is a regular passenger and vehicle ferry service from Bridport to Lady Barron.

The includes one district : Flinders Island Wine District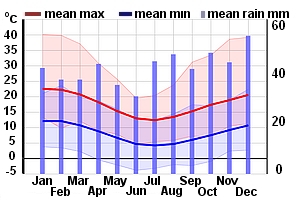 Winery Tour Map
Wineries
Furneaux Tavern, Tas 11 Franklin Parade, Lady Barron TAS 7255
Come and meet the locals! Enjoy a drink with a number of Flinders Island characters and hear their yarns about island life. Sit in the comfort of the bar and look out over Franklin Sound – one of the island's best views. Watch the fishing boats come in to the wharf and their catch of the day and watch as the town of Lady Barron comes to life when the weekly trading boat arrives. You may be lucky enough to pick a time when locals sing and play their music – out come the ukeleles, guitars and maybe a banjo. Join in the fun and entertainment. Other less spontaneous entertainment includes live bands or "Music on the Green" during the summer months when the entertaining focus shifts outdoors to take advantage of our wonderful climate.
Partridge Farm, Tas Badgers Corner, Flinders Island, Tasmania 7255
Partridge Farm B&B and self contained holiday accommodation on Flinders Island is situated on the southern end of the Strzelecki Range within the eucalyptus trees overlooking Franklin Sound & the outer Furneaux Islands. We are four star Bed & Breakfast accommodation with free range partridges, guinea pigs, Cape Barren geese, Rastus the alpaca, deer and dorper sheep, also with a large fruit orchard, olive trees and vineyard.
Unavale Vineyard, Tas 110 Badger Corner Road, Flinders Island, Tasmania, 7255
Unavale Vineyard was established in 1999. From trial plantings of 5 varieties, we now have 6000 established vines with a yield of up to 17 tonnes of fruit. Weather conditions at critical times such as fruit set are our main challenge, overcome by strategically planted wind breaks. Guinea fowl & Cape Barren Geese roam throughout the vines providing good pest control. Our Vines are mulched with organically rich natural mulch. From the establishment of the vineyard – erecting trellising and planting vines through to pruning, harvesting and bottling we have been helped by a supportive community. Over time people have become familiar with the process and our annual 'Music in the Vines' is a 'thank you' to them all.