Jump to Winery List
Huon Valley Wine District
The Huon Valley Wine District includes the southern section of the East Coast of Tasmania, from between Tribunna and Lauderdale. The beautiful Huon Valley, with its maze of hills and valleys intertwined with fingers of ocean, produces surprisingly rich Pinot Noir and Chardonnay. There is a range of wonderful towns and villages in the region including: Port Huon, Ranleagh, Huonville, Cradoc, Galaziers Bay, Petchys Bay, Gardners Bay. Although close to the 50th parallel at which wine-making is supposed to be very difficult, the region produces cool climate grapes that have a depth of unique flavours and local character. The grapes ripen slowly and harvest time is often delayed until April and May. However, with careful site selection close to the river estuaries most vineyards are away from the frosts and winds. The climate of the Huon Valley Region is quite similar to many of Europe's famous wine areas.. The best performing varieties are the Pinots, Chardonnays and Rieslings. The major rural industries of the Huon region are tourism, agriculture, aquaculture and forestry.

The Huon Valley Wine Region is home to 1 district: Huon Valley District ;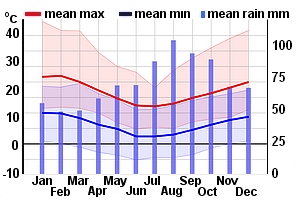 Winery Tour Map
Wineries
Altaness, TAS 10 Haltons Rd, Lymington TAS 7109
Our quest for a cool site to grow Pinot noir and Chardonnay started in 2013 with numerous visits to Tasmania to find the right block of land. We focused exclusively on the Huon Valley region, south of Hobart. We consider the area to have exceptional possibilities to produce elegant wines and pretty styles rather than the broad flavours that attract gleaming medals. We commenced this project while we were living in McLaren Vale (South Australia) making Spanish influenced wines at Cascabel. The vineyard and winery we established in 1997. This pursuit took us two years until we found the right 21 hectares of land in Lymington. A year later, we sold Cascabel and took all our winemaking and vineyard equipment in four shipping containers to start a new chapter of planting a vineyard all over again.
Chatto Vineyard, TAS 68 Dillons Hill Rd, Glaziers Bay TAS 7109
With 25+ years of winemaking experience, Jim Chatto is also a senior wine show judge with over 20 years of experience across both regional, capital city shows and was the Chairman of Judges for the National Wine Show of Australia 2014-2016. In 1998 Jim moved to Tasmania as the inaugural winemaker for Rosevears Estate in the Tamar Valley. He fell in love with Tasmanian Pinot Noir, and a girl called Daisy. In 2000 Jim and Daisy left Tasmania for the Hunter Valley, but began the Chatto label to continue the affair with Tasmanian Pinot Noir. We then spent the next six years searching for the perfect vineyard site. Isle vineyard is located in Huon Valley at Glaziers Bay. Warm, well-drained but in a very cool region, right on the edge of viticultural possibility. Planting began in 2007 and our first vintage (2012) was released in 2013.
Elsewhere Vineyard, TAS 584 Silver Hill Rd, Glaziers Bay TAS 7109
Elsewhere Vineyard overlooks the stunning Huon River at a latitude of just over 43º S. It is one of the most southerly vineyards in Australia, which makes an ideal environment for growing cool climate grapes with the long ripening periods allowing maximum flavour development. Elsewhere had been an award winning Vineyard but was in slow decline for many years. In desperate need for attention, we found the place in 2015 and fell in love. What a task we began, remediating and developing the almost 80 acres with a view not only to improving the 30 acres utilised for viticulture, but creating a sustainable and symbiotic farm. Everything will have a purpose, and everything will compliment one another to satisfy the needs of the wine, the property and us. Thank you for joining us on our journey to produce wines of exceptional quality.
Hartzview Vineyard, TAS 70 Dillons Rd, Gardners Bay Tas 7112
Hartzview Vineyard, Wines and Homestead Accommodation is a family business established, owned and operated by Robert and Anthea Patterson. Hartzview is a leisurely 45-minute drive south of Tasmania`s capital city, Hobart. The Homestead offers four and half star luxury, self-contained bed and breakfast accommodation, for up to six people. Nestled in the picturesque Hartzview vineyard, the Homestead...
Herons Rise Vineyard, TAS 100 Saddle Road, Kettering Tasmania 7155
Herons Rise Vineyard is a family-owned vineyard, with holiday cottages and superb views across the D'Entrecasteaux Channel to Bruny Island, on the slopes above Kettering village. We invite you to visit us for a relaxing stay in one of our comfortable cottages. Herons Rise offers guests two well appointed self-contained cottages for couples, families and friends travelling together. These delightful cottages are situated within the peaceful grounds of Herons Rise Vineyard. We value our very special property and strive to manage it in an environmentally responsible way.
Home Hill Wines, TAS 73 Nairn Street, Ranelagh, TAS 7109
Kelly and Rosemary Bennett, proprietors of Home Hill Wines, invite you to enjoy their warm family hospitality; elegant wines and fine Huon Valley produce at Tasmania`s newest vineyard restaurant and winery. Hill Winery Restaurant is situated amongst the lush, green undulations of the picturesque Huon Valley, and is but a short jaunt to the Tahune Forest Air Walk, Tasmania`s famed Hartz Mountains a...
Kate Hill Wines, TAS 21 Dowlings Rd, Huonville TAS 7109
Kate Hill came to Tasmania in 2006 to fulfil her ambition of making some of Australia's best, world class, cool climate wines Not only is Tasmania Australia's most picturesque, best kept secret, but its gentle climate is ideal for the propagation of some of Australia's most succulent fruit and bountiful vines. This fruit is an essential ingredient of fine wine. Kate is keen to make the most of Tasmania's superb, cool climate fruit by producing high quality wines that everyone will remember and enjoy. Kate is no stranger to the world of wine. For more than ten years she has been making wine in some of the world's prime wine-making regions including South Australia, France, California and Chile. She was an executive winemaker with Orlando Wyndham for four years at their Riverina winery and has a number of gold medal wines to her credit. Kate's experience in Tasmania includes working with Stefano Lubiana Wines and contract winemaker Winemaking Tasmania. She established her own wine brand in 2008 as a negociant producer, utilising the services of a contract winery. In 2011, Kate and her husband Charles acquired an old apple cool store – packing shed on the edge of Huonville, south of Hobart. They have converted the 100 year old timber shed into a winery, and are now fully independent winemakers with the arrival of a bottling line in early 2014.
Panorama Vineyard, TAS 1848 Cygnet Coast Road, Cradoc, Tasmania, Australia
The Panorama Vineyard is located just below the 43 deg latitude in Cradoc, southern Tasmania - just outside the township of Huonville - overlooking the Huon River. The vineyard enjoys an exceptional microclimate. As a low altitude area it has a cool temperate climate with moderate summers, very high sunshine hours and mild winters. The long slow ripening period allows for optimal development of fruit flavours.In summer leaves are removed from fruit area to expose fruit to the sun and nets are placed over each row - this ensures ripeness at vintage producing top quality fruit.
St Imre Vineyard, TAS 6902, Huon Hwy, Dover, Tasmania, Australia
St Imre Vineyard is a boutique winery located in Dover, the Far South region of the Huon Valley. We have 5 acres planted to Pinot Noir, Chardonnay, Gewürztraminer, Pinot Gris and the more hard to find varieties of Ziegerrebe, Baco Noir and Gamay.
Two Bud Spur Vineyard, TAS 1033 Woodbridge Hill Rd, Gardners Bay TAS 7112
Two Bud Spur is a boutique vineyard nestled in the heart of Gardners Bay in Tasmania's Huon Valley wine region. First established in 1996, we are one of Tasmania's southern-most vineyards, producing cool climate wines of exceptional quality. At Two Bud Spur we recognise the benefits of technology, while understanding the importance of tradition. Our philosophy is to grow premium grapes and produce world-class wine through low yields, simplicity of wine making, and while minimising our ecological impact.