Jump to Winery List
Upper East Coast Wine District
The Upper East Coast Wine District is located along the East Coast of Tasmania, north of Swansea, including the wineries near the Freycinet Peninsula and along the coast to Bicheno and further north. It includes the towns of Bicheno, Cranbrook, Swansea, Coles Bay, Freycinet, Triabunna, Binalong Bay, Anson Bay and St Marys. Bicheno is one of the most beautiful towns in Tasmania's and it is a very popular holiday destination. It began life as a sealing and whaling town, then switched its focus to coal mining but today crayfishing and tourism are the largest industries. Bicheno has many wonderful natural attractions, including fabulous beaches, wonderful scuba diving sites and superb fishing from boat or shore. The east coast economy is based on tourism and fishing industries with species ranging from abalone, crayfish, oysters, scallops, and many deep-sea species available. It is also home to some magnificent vineyards and wineries. In the Bicheno, Cranbrook and Swansea area the vineyards have been carefully sited to benefit from a unique microclimate, which ensures a long, gradual ripening period. Most vineyards are established on northerly or easterly facing slope in eastward running valleys. The region is unique in Tasmania with its mild climate throughout the year, and no winter frosts or fogs. The climate is quite dry as the mountains act as a barrier to the prevailing westerly winds, creating a rain shadow across the east of the island. Mean annual rainfall of 3,500 mm on the western highlands at Lake Margaret, drops to as little as 685 mm at Bicheno. Rainfall is evenly distributed throughout the year with a spring dry-period. Irrigation and frost control devices.

The East Coast Wine Region includes two districts: Upper East Coast ; Lower East Coast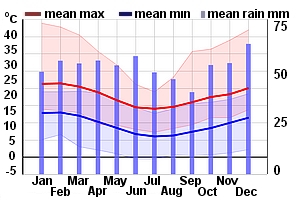 Winery Tour Map
Wineries
Apsley Gorge Vineyard, Tas 39 The Gulchandamp, Bicheno Tas 7215
Apsley Gorge Vineyard, established in 1988, consists of 5 hectares of vines and a waterfront winery in a spectacular waterfront setting at the `Gulch` just north of the fishing port of Bicheno. Taste Apsley Gorge wine from the fish factory cellar door at the scenic Gulch [where you can also buy fresh crayfish in season]. The proprietor Brian Franklin, a retired abalone fisherman, dreamt of making ...
Craigie Knowe, Tas 80 Glen Gala Road, Cranbrook 7190
Welcome to the Craigie Knowe Vineyard website. We hope its content will provide you with the information you are looking for and entice you to try our gorgeous wines and/or visit us on the beautiful east coast of Tasmania. We love sharing both! When visiting our rustic cellar door, within the oldest vineyard on the east coast, you will experience the passion behind our quality handcrafted wines. Stay for an extended chat in the beautiful, relaxed surroundings just metres from the vines and enjoy a platter of exceptional produce. Finish your experience with a decadent handcrafted chocolate and wine matching.
Devil's Corner Cellar Door, Tas Corner Tasman Highway and Sherbourne Road, Apslawn 7190
Devil's Corner Cellar Door overlooks the spectacular scenery of Moulting Lagoon and the Freycinet Peninsula. Enjoy the amazing views with a glass of our award winning wine while you choose from a selection of delicious East Coast seafood or woodfired pizzas. Coffee and gelato also available all day.
Freycinet Vineyard, Tas 15919 Tasman Highway Bicheno Tas 7215
Inspired by the tremendous opportunities of the East Coast of Tasmania, Geoff and Susan Bull cleared the site in 1978, planted the first vines in 1979 and established the first commerical winery on the East Coast. They were early pioneers in a new region which years later revealed exciting quality potential in wines. The region now boasts over a dozen different vineyards. The Freycinet Vineyard and Winery is family owned with daughter Lindy Bull and her partner Claudio Radenti taking over the family tradition of gently handcrafting the wines.
Gala Estate, Tas 14891 Tasman Highway, Cranbrook 7190
As the second oldest family business in Tasmania, we have been living and loving this land for 200 years. Our pristine natural environment allows us to consistently produce some of Tasmania's best wines. Visit our James Halliday 5 Star Winery and discover our award winning wines. Gala Estate, Inspiring Tasmania! Our Family have been living and loving this land for 200 years. We breathe the world's cleanest air and are surrounded by 4 wild rivers and five private forest reserves. This pristine environment and our connection to the land allows us to consistently make some of Tasmania's finest Pinot Noir
Iron House Vineyard, Tas 21554 Tasman Highway, Four Mile Creek 7215
Iron House Tasting Room at White Sands Estate offers a range of wines, brews and spirits. Tastings are available every day or relax and enjoy a glass on the deck. Our 30 hectares of vines located on rolling hills overlooking the Tasman Sea produce fabulous sparkling, sauvignon blanc, chardonnay and pinot noir. Come visit us today.
Kelvedon Estate, Tas Tasman Highway, Swansea Tas
Kelvedon was traditionally a fine wool sheep and Cattle property with some cropping, in 1998 the family diversified into Viticulture. Initially 1ha of Pinot clones were planted these vines form the foundation of the very successful Kelvedon Estate Label. Our first hectare of vines were planted in 1998, and the success of the viticulture enterprise has resulted in expansion over the years to 9 hectares in full production. Half of our vintage is sold under contract to Accolade Wine of which the fruit is made into sparkling wine for the House of Arras Range. The balance of the production is produced for our own label which can be found in restaurants and bottle shops throughout Tasmania and Melbourne.
Milton Vineyard, Tas 14635 Tasman Highway, Cranbrook 7190
The Dunbabin family produce premium quality award winning cool climate wines. The aromatic whites and Pinot Noir are our specialty. In the warmer months enjoy lunch overlooking the lake and vineyard (available October - April). Vineyard of the Year 2017.
Priory Ridge Wines, Tas 280 Ansons Bay Road, St Helens 7216
Situated in the tranquil Priory Valley, our boutique vineyard is only minutes from St. Helens and the Bay of Fires. A unique experience: tastings and sales from a rustic cellar door; memorabilia of early settlers to Priory; an ancestral property; premium cool climate wines of distinction.
Seascape Vineyard, Tas Addison St., Swansea, Tasmania 7190
Seascape Vineyard sits on a panoramic site on a scenic ridge-top west of Occidental, California in the Sonoma Coast AVA. The vineyard abuts an old redwood grove and faces cascading ridges to Bodega Bay and the Pacific Ocean. The well-known Coastlands Vineyard also borders the property. With no ridge between the ocean and the vineyard, Seascape is extremely cold — so cold that Chardonnay and Pinot Noir is often picked in November. The vineyard is cropped to about two tons per acre to ensure thorough ripening. Though difficult to farm, Seascape's grapes offer the great reward of Chardonnay and Pinot Noir brimming with intensity, terroir and structure.
Spring Vale Vineyards, Tas 130 Spring Vale Road, Cranbrook, Tas 7190
Spring Vale is situated at Cranbrook, north of Swansea on Tasmania`s East Coast. Rodney and Lyn Lyne have planted 6.6 hectares of wine grapes at Spring Vale, principally Pinot Noir. The vineyard began in 1986, when a small area of two acres was planted to Pinot Noir. Further plantings were made in the following years: firstly, more Pinot Noir, then Chardonnay and Gew...
The Farm Shed, Tas 53 Burgess Street, Bicheno, TAS 7215
The Farm Shed East Coast Wine Centre is your one stop shop for Tasmania's East Coast wine region, offering tastings and sales of 55 wines from 20 vineyards local vineyards between Orford to just north of St Helens, including many that do not have their own cellar doors. Pull up a seat at our shared tables and order a glass of one of our wines – we have several available each day by the glass. Or let us guide you through a selection of our wines (or our hand-picked selection of local whiskies and gins) with a tasting first, so you can decide what you'd like to try more of.