Jump to Winery List
D`Entrecastreaux Channel North Wine District
The D'Entrecasteaux Channel North District includes the area of the channel north of Kettering that extends between Bruny Island and the Tasmanian mainland north along the coast to the Derwent, estuary at Piersons Point. It includes the townships of Snug, Margate, Kettering, The Chimneys, Oyster Cove and Tinderbox. The district is renowned for its orchards (cherries, apples, pears) and more recently for its vineyards. The villages provide services for the local farming communities and support tourism and many also support commercial and recreational fishing activities. Kettering is the major fishing centre in the region and is the port for the ferry to Bruny Island. Kettering boasts two major marinas, Oyster Cove Marina and South Haven Marina, and there are many smaller, privately owned jetties. The entire channel area is famous for its fishing and boating. Kettering and the surrounding towns have thriving arts and craft communities. The area is renowned for its fresh produce.

The D`Entrecastreaux Wine Region includes two districts : D`Entrecastreaux Channel North District ; D`Entrecastreaux Channel South District.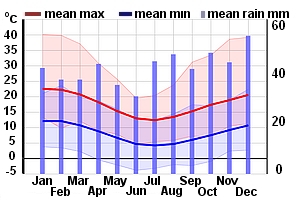 Winery Tour Map
Wineries
Fluted Cape, Tas 128 Groombridge Road, Kettering, TAS 7155
For many years Val Dell was the senior wildlife ranger on the central plateau of Tasmania, his wife Jan running the information centre at Liawenee. I met them there on trout fishing expeditions, staying in one of the park huts. They have now retired to the Huon Valley region, having established 0.25ha each of pinot noir and chardonnay overlooking Kettering and Bruny Island, said to be a spectacularly beautiful site. The wines are made for them by Andrew Hood and are sold through the cellar door and Hartzview Cellars in Gardners Bay.
Herons Rise Vineyard, Tas 100 Saddle Rd, Kettering TAS 7155
Herons Rise Vineyard is a family-owned vineyard, with holiday cottages and superb views across the D'Entrecasteaux Channel to Bruny Island, on the slopes above Kettering village. We invite you to visit us for a relaxing stay in one of our comfortable cottages. Herons Rise offers guests two well appointed self-contained cottages for couples, families and friends travelling together. These delightful cottages are situated within the peaceful grounds of Herons Rise Vineyard. We value our very special property and strive to manage it in an environmentally responsible way.
Kilbowie Wines, Tas 279 Allens Rivulet Rd, Allens Rivulet TAS 7150
Kilbowie Wines is a small family owned winery and vineyard 25 km south of Hobart – about half way to the Huon Valley. We produce small amounts of wines from several boutique vineyards in Southern Tasmania. The Winery has produced batches of wine from as small as 20 dozen bottles to as large as 250 dozen bottles. Since 2012 we have commenced purchasing selected Tasmanian grapes. For example in 2012 we made our first Tempranillo. Kilbowie Wines has been specifically designed to maximise the quality and individuality of wines from varying vineyards. Grapes are not mixed and each batch is given specific treatment, to focus on the strengths of the grapes instead of using a generic process.
Nandroya Vineyard, Tas 262 Sandfly Rd, Margate TAS 7054
Nandroya lies above the river which links Mount Wellington and North West Bay on rich well-drained volcanic soils. The vineyard and cellar door is in Margate (262 Sandfly Rd) which is only a short 20-minute drive from Hobart. The vineyard, of 1.5 Ha, is slightly elevated and faces North-East to capture the maximum sun in the growing season. Wine, after all, is bottled sunshine! Warm days and cool nights identify Nandroya truly as a "cool-climate' vineyard. With variable weather, vintage can be as early as the first week of April or as late as May when there is already snow on Mt Wellington.
St Imre Vineyard, Tas 6902 Huon Hwy, Dover TAS 7117
St Imre Vineyard is a boutique winery located in Dover, the Far South region of the Huon Valley, on the Huon Trail. We have 5 acres planted to Pinot Noir, Chardonnay, Gewürztraminer, Pinot Gris and the more hard to find varieties of Ziegerrebe, Baco Noir and Gamay. Our blends of Possum Piss (white) and Tiger Blood (red) becoming ever more popular. St Imre is offering wine, coffee, cakes and art/craft works.