Jump to Winery List
Inner City Adelaide Wine District
Inner City Adelaide Wine District includes wineries, cellar doors and boutique wine makers who source their grapes from vineyards owned by other. It also includes head offices of wineries that have vineyards in South Australia.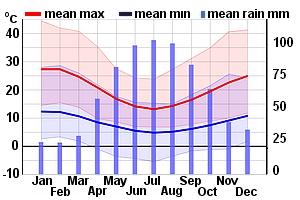 Winery Tour Map
Wineries
Burton Premium, SA 248 Flinders Street, Adelaide SA 5000
Burton Premium Wines has the benefit of sourcing our grapes from a number of premium wine growing regions throughout Australia - including the gently rolling hills of McLaren Vale and the famed `terra rosa` soil of the Coonawarra. This places us in the perfect position to capitalize on the natural attributes and strengths of each region and the classic varietal characteristics that produce superio...
Hewitson Wines, SA 66 London Road, Mile End SA 5031
Dean Hewitson captures the essence of history and the magic in old vines and bottles it. His passion for wine is undeniable and his desire to share this passion is even greater. This led him to a life in which he creates wine purely for the enjoyment of others. Dean Hewitson is driven by passion. His creation of individual, exquisite wines from the ancient vineyards of South Australia is for your ...
Koppamurra Wines, SA 32 Unley Rd, Unley SA 5061
Koppamurra currently consists of a tightly held two person partnership, Hamish Ramsay and Dean Christie assisted by a small, highly skilled and motivated team. Working from a well designed gallery-tasting room, office and warehouse complex just south of the Adelaide CBD. As our history shows, we no longer own vineyards - this gives us the opportunity to choose from a wide range of regions and select the very best grapes for our winemaking team to perform their magic!
Morgan Simpson, SA vineyard - McLaren Vale SA 5171, PO Box 39 Kensington Gardens 5068
Morgan Simpson is a small McLaren Vale wine producer located in the foothills of the South Mount Lofty Ranges. Winemaker Richard Simpson (B.App. Science - Wine Science, CSU) and George Morgan select small parcels of fruit from the Clos Robert vineyard (first planted by Robert Allen Simpson in 1972). The winemaking began with a trial vintage - 2 barriques of Cabernet Sauvignon - in 1997 followed by...
Patritti Wines, SA 13-23 Clacton Rd, Dover Gardens SA 5048
The Patritti family began establishing vineyards in the McLaren Vale region, during the 1960`s, including Aldinga and Blewitt Springs. As an added business since 1977 the winery has produced non-alcoholic sparkling fruit juices, including dark grape juices, golden Muscat, medium whit and a sparkling apple juice. These are proving extremely popular in Asia and Middle East markets. Geoff Patritti wh...
Rumball, SA Level 2, 107 Port Road, Thebarton SA 5031
In the early 1970`s, Peter Rumball firmly established his reputation as one of Australia`s foremost sparkling winemakers. He has been making methode champenoise styles for over 20 years and during this time consulted to some of Australia`s great winemakers. The Clare Valley was the learning ground for Peter, where he worked at the Stanley Wine Company making superb still red and white wines under ...